News
24/09/2018. Opening of the exhibition "Inspired by Wave": to the 120th anniversary of Finnish architect and designer Alvar Aalto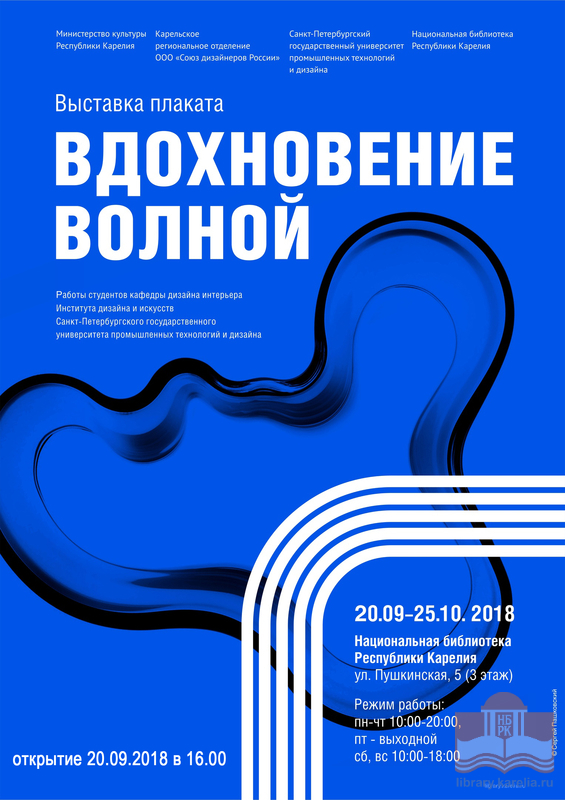 September 20, 2018:
The National Library of Karelia opened the exhibition of graphic works made by students of the Institute of Design and Arts of the St. Petersburg State University of Industrial Technology and Design. The exhibition "Inspired by Wave" is dedicated to the 120th anniversary of Finnish architect and designer Alvar Aalto (1898 – 1976).
Alvar Hugo Henrik Aalto is an outstanding, world-famous architect, "the founder of modernism" in Northern Europe and one of the most prominent representatives of Scandinavian design. As an original artist, he created his own, recognizable and memorable "Aalto" style, expressed in the original solutions for theaters and libraries, museums and churches, houses and industrial buildings. The exhibition presents more than 20 graphic works made by students of the 3rd year of the Interior Design department while studying the discipline Applied Graphics; the author's course was developed and being taught by the Assistant Professor and Honored Artist of the Russian Federation S. V. Pshkovsky.
At the opening of the exhibition, Tarvo Nieminen, Consul of the Petrozavodsk branch of the Consulate General of Finland in St. Petersburg, said welcoming words to all the participants.
Vladimir Sanzharov, the curator of the exhibition, the Head of the Institute of Design and Arts and the Professor of the Interior Design department, and Egor Permyakov, the curator of the exhibition in Petrozavodsk, the Chairman of the board of the Karelian regional branch of the Union of Designers of Russia, told about preparation of the exhibition and creation of graphic works.
We thank the students of the Specialized School of Arts of Karelia (teacher Olga Egorova) for musical accompaniment of the event.
The exhibition is open to all interested persons until October, 25 during opening hours of the library.