News
22/05/2018. Long Night of Museums 2018: Masterpieces from the storerooms
May 19, 2018: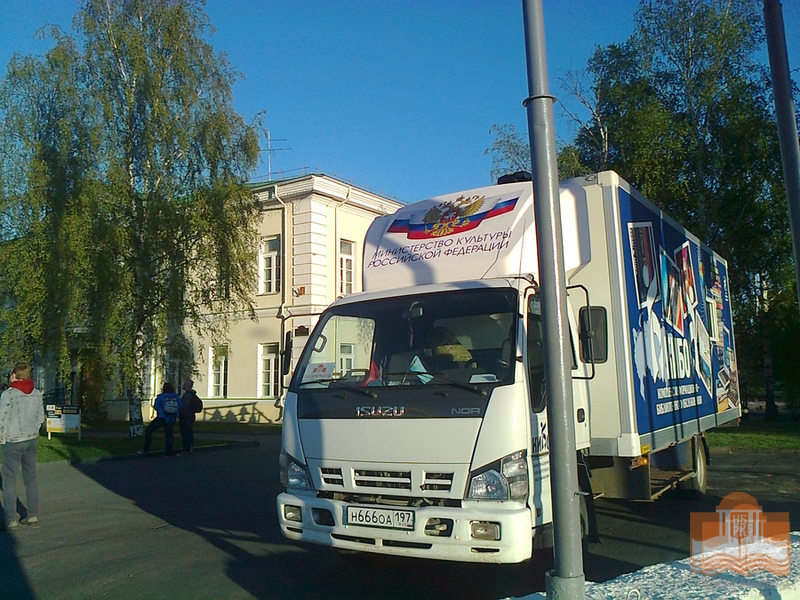 The National Library of Karelia took part in the Long Night of Museums campaign and presented its interactive program Metamorphoses of Reading. Metamorphoses occur constantly in human life and in the history of the country. This evening, the mobile library of the National Library of Karelia turned into a time machine, and every visitor could travel to the Soviet Union of 60's, 70's, 80's and Russia of 90's.
The guests of the mobile library learned how our parents and grandparents had lived and what they had read. Do we read these books today? Do we know about those books that were on the bookshelves of each family of our vast country?
Newsreels brought us closer to the events of those years. A separate stand was dedicated to every decade: main events, fatal books, magazines and films of different years. Adult and young visitors could test their calligraphy skills and write in a cursive writing textbook their favorite poem.
Music lovers liked music kiosk and were guessing songs and melodies of the Soviet years. Connoisseurs of cinema were guessing names of films and recited their favorite movie heroes by heart. Lovers of board games with excitement played chess, checkers and sea battle. The Long Night of Museums 2018 is over, but the holiday of art and reading continues. The National Library of Karelia awaits readers in its cozy and spacious premises at Pushkinskaya, 5, Petrozavodsk.